Categories
Categories
Brands
Brands
Rocketarium Flying Model Rocket Kit AA-10 Alamo Air to Air Missile RK-1011
Rocketarium Flying Model Rocket Kit AA-10 Alamo Air to Air Missile RK-1011
Product Description
Rocketarium Alamo Air-to-Air Missile Kit
The Alamo is an Air-to-Air missile which targets just about anything that flies, including helicopters, drones and even other missiles! NATO has given this AAM missile the name AA-10 Alamo, it is also known as the Vympel R-27.This highly-detailed Alamo military scale kit is excellent for small launch sites. It is a large and heavy model rocket. Ignite those slow launches that everyone can enjoy! Three (3) sets of fins and a boat tail give this scale model rocket kit lots of personality.Pick up this scale model of this medium-range missile today for some serious modeling fun.
Challenges
The Alamo military scale rocket kit has three sets of laser-cut fins, for a total of twelve fins. Epoxy is required and CA glue is also recommended to assemble this kit.
Parts
The AA-10 Alamo comes compete with laser-cut centering rings, fins, Decals, Ejection Baffle, plastic Nose Cone and Tail Cone and 15" Plastic Parachute Kit.
Length: 30" (76 cm)
Diameter: 1.64 in. (76 mm)
Estimated Weight:8.5 oz. (210 g)
Skill Level 3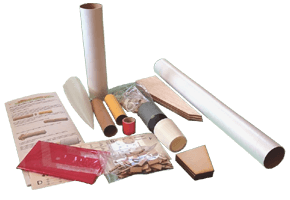 Recommended motors:
Recommended Single Use Engines (apogee): D12-5(480 ft), E20-7(900 ft), E15-7(1060 ft), F32-6 (1260 ft)
Aerotech® RMS 24/40 (apogee): D15-4(530 ft), E18-7(980 ft), F24-7(1150 ft)
Pro24® (apogee): 24-E22-6(650 ft), 26-E31-6(700 ft)
Model Rocket Kits are rated by Skill Level
1 Beginner
2 Intermediate
3 Advanced
4 Expert
5 Master
If you are just starting in the hobby start at the beginner level and move up from there at your own pace.
What is needed to build and fly
All model rockets come in kit form that require assembly. The materials are primarily cardboard tubes, balsa or plastic fins and nose cone. Materials will vary by model and are typically specified in the description of each kit.
Additional supplies will be necessary to build and finish your model rocket kit and may include:
Scissors, Hobby Knife
Ruler
Wood Glue, Model Cement or CA(Super Glue)
Sandpaper
Masking Tape
Finishing Supplies like:
Wood Filler
Sealer/Primer
Paint
Launching Equipment and Supplies like:
Recovery wadding
Launch Pad
Launch Controller
Power supply
Model Rocket Motors and Igniters
A safe place to fly using guidelines from the National Association of Rocketry Safety Code
Other Details
Product Reviews
Find Similar Products by Category
Customers also viewed